As mortgage interest rates continue to climb, here is a quick look at how interest rate hikes affect home sellers in Greater Travelers Rest.
The Pool of Available Buyers Will Shrink in Price Bands
With each rate increase, another segment of buyers for your home will drop out of the buying pool.
For example: using REALTOR.com Mortgage Calculator we see how 5.171% vs. 8.171% interest rates affect buying power on a $500,000 home in Travelers Rest, SC 29690.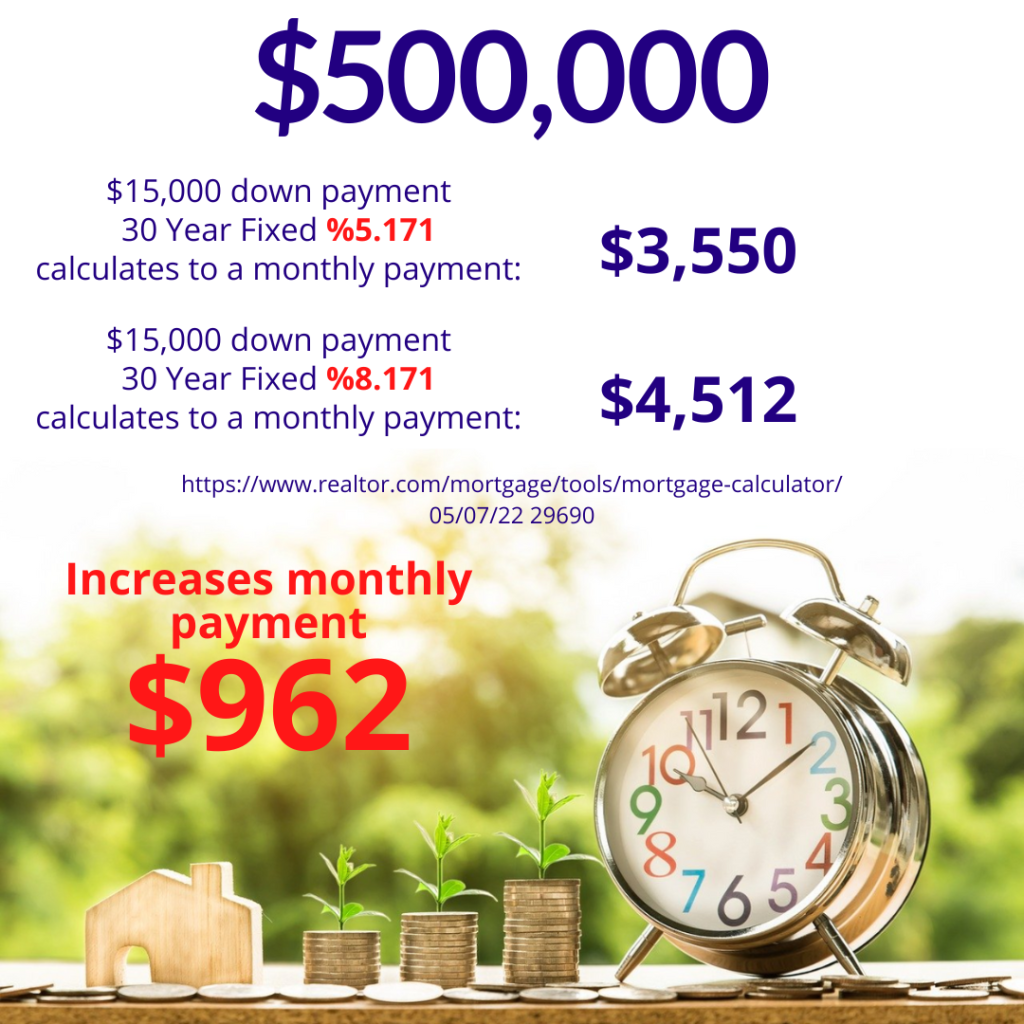 So while the market values of homes in Travelers Rest, SC may not drop, the volume of quality buyers who can afford your home will shrink. For many buyers, a $962 increase to their monthly budget solely due to interest rates will eliminate them from the buyers in this $500,000 example.
To get a monthly payment of $3,558 at the 8.171% interest rate in this exercise, the maximum home price they could afford would be $397,000 and substantially below the $500,000 home.
Buyers May Stay in the Market If They Settle in Lower Price Bands
When buyers can no longer afford higher priced homes due to the interest rate increases, this effect will correlate across most price bands, as buyers begin to settle for less items on their checklist of wants in lower price bands.
The Spike Before the Fall in Travelers Rest
Furthermore, the upstate of South Carolina enjoys a strong economy with a thriving business environment. Subsequently, it continues to attract more businesses and of course a high influx of new residents. While supply and demand of homes is still off balance, the upstate market will not drop in home prices with these initial mortgage interest rate hikes. If anything, expect demand to rise as buyers attempt to beat the rate increases to still get into the price bands and the level of quality they want. Consequently, there is apt to be a spike in market activity and home sales before prices start to fall in Greater Travelers Rest.
2022 May be the Year for Homeowners to Sell
Experts suggest and several market trends indicate 2022 may be the peak year to sell for which homeowners have waited. While 5% seems high compared to a market accustomed to 2-3%, it is still a good mortgage interest rate. It is a rate where you can still expect to receive multiple offers for homes priced and marketed appropriately.
Please let me know if you want more details on how interest rate hikes affect home sellers in Travelers Rest, SC. I am happy to field your questions.
If you want to take advantage of this window of opportunity for sellers, please call me direct (864) 810-SOLD